Remote project management is incredibly growing in popularity for quite some time for many reasons like better resource fit, cost-effectiveness and less liability. Here comes an important question – how to empower the remote project management team and make the projects a success. In today's modern world, businesses can work across the world. Developing a remote corporate environment let the diversity of skills to keep the organization running smoothly.
For remote project management, you should probably carry out frequent meetings, managing the leads, supervising the work and much more. Project managers are accountable for the end outcomes of the project and subsequently making the people responsible to efficiently carry out the tasks is the foremost challenge. In this article, based on my experience with remote project management for over 2 years, I have explored some of the best strategies to help teams work more efficiently and keep the human touch!
You must have a bigger picture of managing projects online. Here are a few questions, you should perhaps ask yourself:
How many employees will use the platform setup?
Setup on how to track the project progress and delivery?
How to appropriately manage project finance?
Can I have an entire project backup?
How to make sure that communication between teams is carrying out effectively?
Let's Get Started!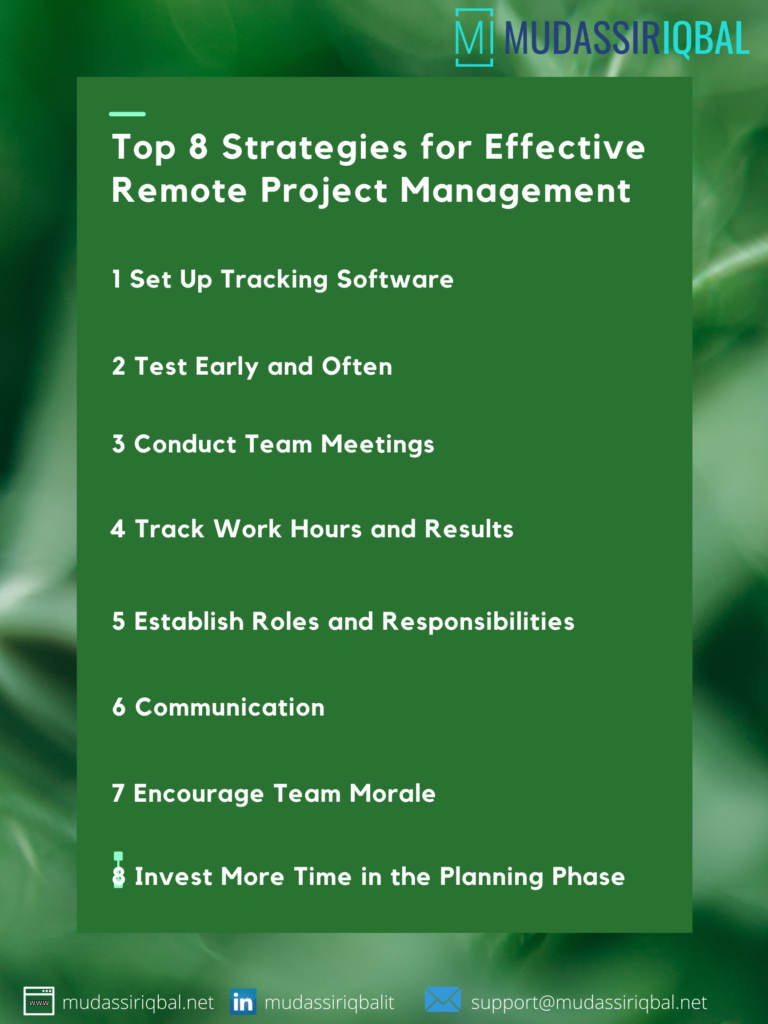 1 Set Up Tracking Software
If you have ever underestimated the significance of testing earlier, it's time to correct it. Since you are working remotely, one important key task is to ensure every phase of the project is tested. It will help you gain immediate feedback both from the employees and clients and make modifications if required. Testing earlier is ensuring you are saving precious time and creating more room for the changes. The very last thing you will want by the end of the project is that it is not tested carefully.
2 Test Early and Often
When it comes to choosing project management software, it might be overwhelming for you due to several options available. Many project managers prefer using Monday.com and Slack. These tools are designed for instant communication, sharing files and documents, and tracking the overall progress of the projects. You may also want to consider Pivotal Tracker, though it is more inclined towards software development. With efficient project tracking software, you will be able to track progress in real-time and ensure all project deliverables are successfully met.
3 Conduct Team Meetings
One important strategy is to communicate your goals and plans across the board. It will let your team members share their thoughts and ideas. Keep in mind that a leader should have dependable meeting management skills. Besides, motivate all team members to bring out their opinion during meetings and make sure to set goals every day. Let them know what they are expected to deliver by the end of the day. Also, use screen sharing services during the conferences.
4 Track Work Hours and Results
This is particularly important to make sure your team is working productively. It might be somewhat challenging if your project management team has recently started working remotely. You can ask them to send their daily activity report by the end of the day. You can ask them for updates more frequently. After all, the key is to ensure what your team members are doing and how long it will take to complete a task. In addition to that, you can have training sessions to keep track of the employees' productivity. Evaluate their work performance and give them feedback regarding what needs to be improved.
5 Establish Roles and Responsibilities
Regardless of the project type, it's crucial to define roles. One additional step is to make sure every employee understands the fact that their work can influence the entire project. For example, if you have a team for developing project software, make sure they have all the requirements and deadlines. You may also assign someone as a leader. While teams are not working in the same office, a group project leader can make the project run more efficiently.
6 Communication
It's crucial to train your team to develop a remote working culture and ensure effective communication is taking place. In traditional work culture, decisions are frequently made in informal team meetings and over the lunches. On the other hand, while working remotely things are somewhat different. The decision is made and makes sure everyone is informed about it. A content management system that can optimally combine the important information and communicate it to the project team is what you need. Moreover, encourage your team members to share information actively. Communicating frequently and keeping to work schedules can refute delays or outdated information.
7 Encourage Team Morale
You are bringing together a group of people from different countries, locations and time zones and expecting them to work all together and accomplish project goals. Your management skills truly count when it comes to creating the right kind of atmosphere. To motivate your team, it's time for reward and recognition. It can be in the form of cash bonuses or a few words of appreciation. Celebrating the project's success should be a part of your team culture. It can even be a shout-out on the project team Slack channel.
8 Invest More Time in the Planning Phase
While working remotely on multiple projects, the foremost thing you need to do is pen down the requirements. You shouldn't leave any details to your imagination such as samples or outcomes. It's more helpful to include case studies, desired outcomes, and a Q&A segment. Make sure to get the specifications very close to the results.
Conclusion
Your remote project can run efficiently and smoothly when everything is on track – the ongoing updates, analysis, and feedback. Communicating goals and plans is an important strategy to progressively work on the project. You can maximize the technology-oriented communication systems to further improve the performance. If you have read this far, I hope you are now familiar with important project management strategies when working remotely. At the end of the day, all that matters is the Strategy!
References