Work Breakdown Structure (WBS)
A deliverable-oriented hierarchical decomposition of the work to be executed by the project team to accomplish the project objectives and create the required deliverables" PMBOK

A Work Breakdown Structure (WBS) is a hierarchical structure of things that the project will make or outcomes that it will deliver"  Association of Project Management
A Work Breakdown Structure is created after evaluating the project scope statement and the requirements documentation. It's the graphical representation of the hierarchy of the project. The WBS template can be used across multiple projects. It motivates the project team to deliberate through all the levels of the project. If a particular task is not in the WBS, then it's probably not the part of the project.
The Work Breakdown Structure (WBS) is essential for getting a project off the ground. Creating a WBS, however, can be a daunting task. For complete Understanding, I suggest to quickly go through the following links;
It is important to note that there is no RULE for creating a WBS. This completely depends on how the Project Manager or a Project Management Team would like to control the project. The objective of all the following is the same; What is part of the WBS is part of the Project and what is not part of the project.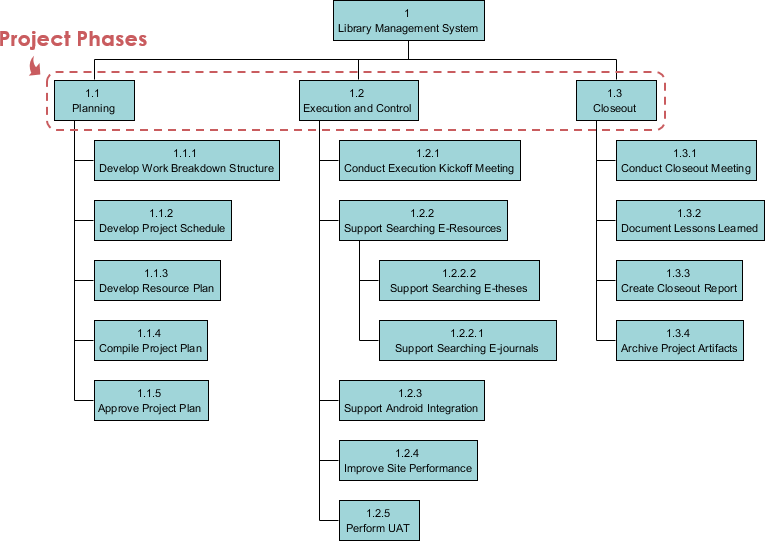 100% rule: the sum of the smallest elements equates to the entirety of the WBS and nothing is forgotten. This is called the 100-percent rule.
Before closing, let me share three additional definitions with you
Decomposition is a  technique used for dividing and subdividing the project scope and project deliverables into smaller, more manageable parts.
Rolling wave planning is an iterative planning technique in which the work to be accomplished in the near term is planned in detail, while the work in the future is planned at a higher level.
Progressive elaboration is a project management technique that allows for detail to be added to coarse-grained project plans in an incremental nature. It is well suited to iterative development techniques. Progressive Elaboration. The iterative process of increasing the level of detail in a project management plan as greater amounts of information and more accurate estimates become available.
Further Readings
A Beginner-Friendly Guide to Work Breakdown Structures (WBS)
[pt_view id="c356c37lza"]