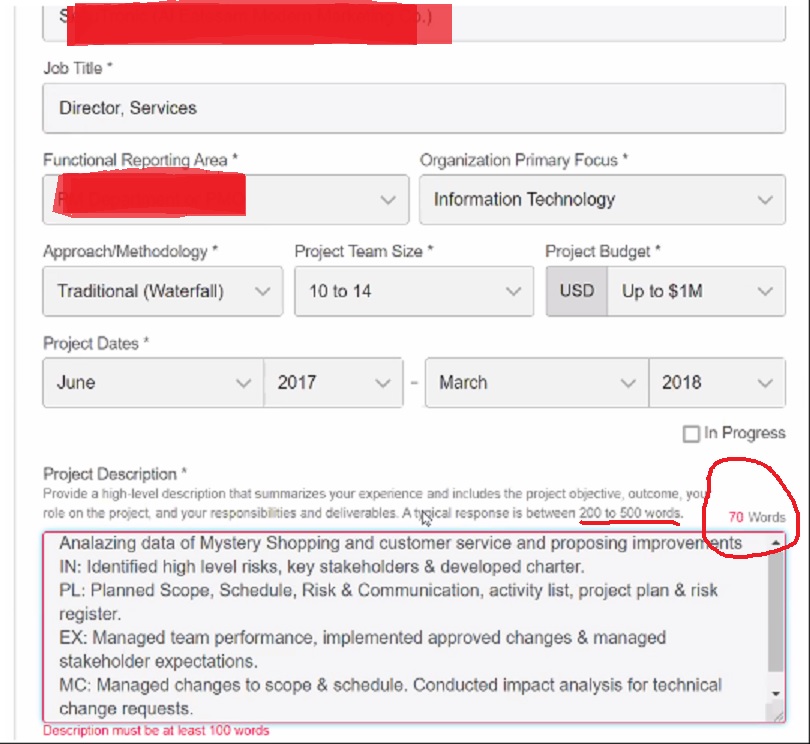 PMI Application is Revamped!!
PMI application has changed the way we enter our experience but are not changing the prerequisites.
This revamped application is easier to use and faster to complete, so you can sit for your exam even sooner.
Instead of having to describe your experience by dividing each projects hours into 5 domains with hours under each process group, now we need to provide the details of the project covering objectives, outcomes and our roles
Please note that;
36 months and 35 hours course requirement are not changing.
No more contact Information, only once you are selected for Audit. So still keep this information handy as in case you are selected for Audit, you need to know to whom you need to contact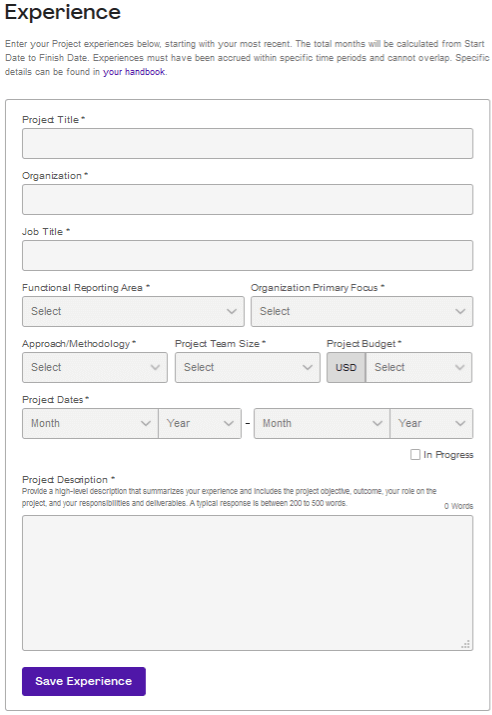 Form Details
Form fields

Project Title: Name of your project. This should help uniquely define the project
Organization: Where the project was carried out. May not be your current organization
Job Title: What is your possition in the organization where the project haappened. e.g Project manager, Project Lead, Project Coordinator, Team lead
Functional Reporting Area: Select from drop down a functional area most resembles your team.
Organization Primary Focus: Industry that best fits your organization.
Approach/Methodology: Choose from Traditional (Waterfall), Agile, or Hybrid
Project Team Size: Pick the range of team members involved in the project.
Project Budget (in USD): Give your best estimate of the budget.
Project Dates: Provide the start and end date of the project.

You can also select "In Progress" if the project is ongoing.
Here we have to provide the 36 months of Project Leadership Role on different projects.
Experiences will be entered against these by moths instead of hours.
PMI accepts your experince for any project in last 8 years
Avoid over lapping projects, else these will be counted as 1.

Project Description : Experience will now be entered in between 200 to 500 words ideally as;

Project Objective:
Outcome/Scope/Intent of the Project
Your role on the project : Under this section, make sure provide experience relevant to project management and not related to non-project Management activities.
Your responsibilities : Emphasize role and how you led the project. Explain the contribution to the successful completion of the project.

Identify your experience in the 5 phases onf the project i.e Initiation, Planning, Execution, Monitoring and Controlling, and Closing
Focus on Stakeholders, Risk, Scope, Team, Change Management and Continous Improvement (Lesson Learned)
This is "I" and not we area. Use words like "I planned", "I directed", "I did", "I managed", "I Implemented". This is your time to shine.
Write description using PMI's Keywords and avoid acronyms that are local to your business

Deliverables : what you have handed over to end user.

Additional References:

Important Information for Audit : Please make sure that you have a person to review and approve the project and you are in contact with him/her that in case you are selected for Audit you can contact him and he/she will able to valdate your project
Application Submission and Audit Process
The PMI will take 5 to 7 business days to review your application and once approved you will be requested for payment. After the payment, you will be notified if you are selected for audit or not. This is sampling so technically it has nothing to do with your application, but once you are selected for audit your application will be reviewed in detail for any gaps, references, project descriptions, your roles and etc. If you are selected for an audit, the PMI will give you 90 days to complete the process. Your eligibility period for the exam will start from the day your audit is cleared.
All applications are subject to an audit, although only a percentage of applications are selected for an audit. The selection of an application for audit is random.

PMI.org