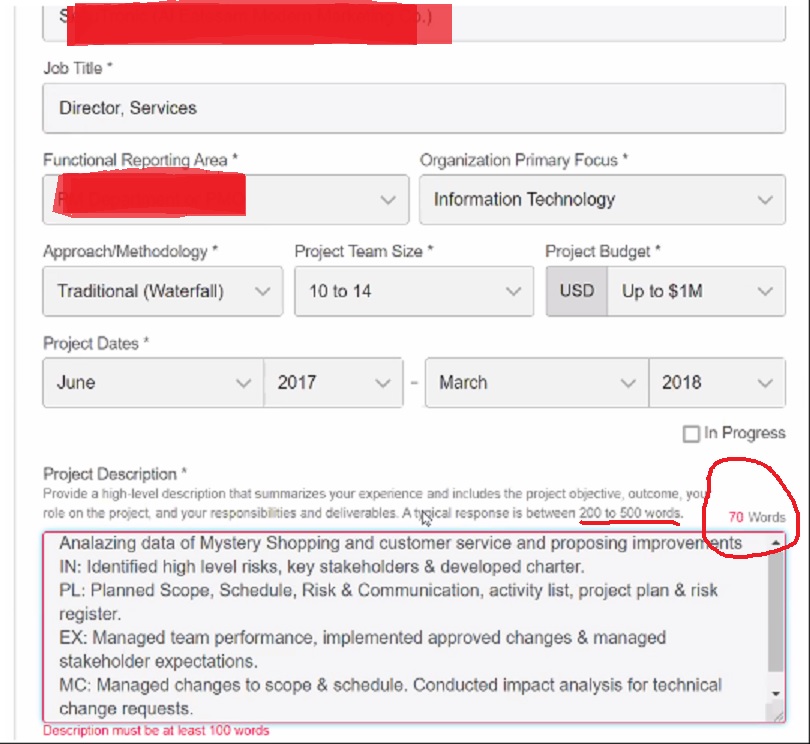 PMI's PMP Application!!!
PMI application has changed the way we enter our experience but are not changing the prerequisites.
This application is easier to use and faster to complete, so you can sit for your exam even sooner.
Please note that;
36 months and 35 hours course requirement are not changing.
No more contact Information, only once you are selected for Audit. So still keep this information handy as in case you are selected for Audit, you need to know to whom you need to contact
Please ensure that you choose projects for which you have the necessary contact information. The contact person does not necessarily have to be employed by the same organization as you, but they should be able to sign the application if you are selected for an audit. It is important to note that the audit process is conducted randomly and is unrelated to the content of your application.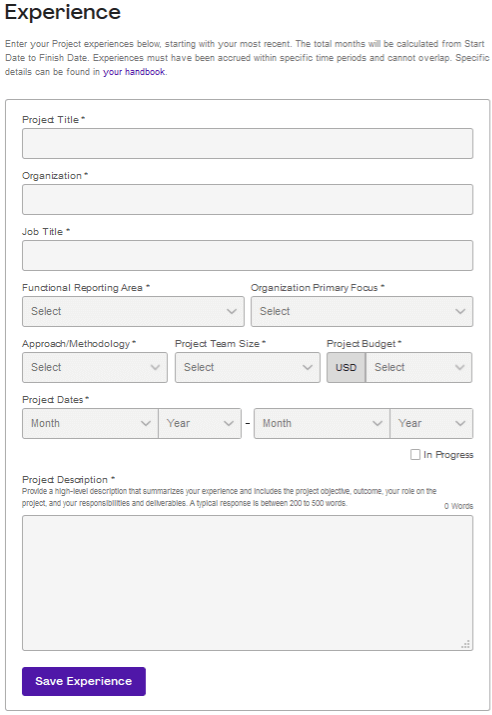 Form Details
Form fields

Project Title: Name of your project. This should help uniquely define the project
Organization: Where the project was carried out. May not be your current organization
Job Title: What is your position in the organization where the project happened? e.g Project manager, Project Lead, Project Coordinator, Team lead
Functional Reporting Area: Select from the drop-down a functional area most resembles your team.
Organization Primary Focus: The industry that best fits your organization.
Approach/Methodology: Choose from Traditional (Waterfall), Agile, or Hybrid
Project Team Size: Pick the range of team members involved in the project.
Project Budget (in USD): Give your best estimate of the budget.
Project Dates: Provide the start and end date of the project.

You can also select "In Progress" if the project is ongoing.
Here we have to provide 36 months of Project Leadership Role on different projects.
Experiences will be entered against these by months instead of hours.
PMI accepts your experience for any project in the last 8 years
Avoid overlapping projects, or else these will be counted as 1.

Project Description:
This is related to Project Management activities therefore avoid too many details on the scope and project activities. Use project management terminologies like Project Charter, Business Need Document, Project Management plan, WBS, Team Charter, Team formation, Communication plan, Managing the team, Motivating the team, Identified Key stakeholders, working on Variances, MOnitored the schedule, cost and quality..
Experience will now be entered in between 200 to 500 words ideally as;

Project Objective:
Outcome/Scope/Intent of the Project
Your role on the project: Under this section, make sure to provide experience relevant to project management and not related to non-project Management activities.
Your responsibilities: Emphasize your role and how you led the project. Explain the contribution to the successful completion of the project.

Identify your experience in the 5 phases of the project i.e

Initiation (IN) : Charter, Team roles, Costing, Risk, Project Methodology, Stakeholders identification, Feasibility, Project Need document, Product Map
Planning (PL) : discuss Project Management Plan and subsidiaries, competing requirements, consensus (Voting, MoSCoW, Fist of five), decision making, Scoping, Back logs, Release Planning
Execution (EX) : Team Execution, how you removed impediments, Sprints, and refinement of backlogs, Games (Story Points, Dot Voting_
Monitoring and Controlling (MC) : Variances, Change Management, Retrospectives
and Closing (CL) : Closing of Project, Procurement, Lesson Learned

Focus on Stakeholders, Risk, Scope (Product, Project, product Backlog), Team, Change Management and Continous Improvement (Lesson Learned, retrospective)
This is the "I" and not we area. Use words like "I planned", "I directed", "I did", "I managed", and "I Implemented". This is your time to shine.
Write a description using PMI's Keywords and avoid acronyms that are local to your business

Deliverables: what you have handed over to the end user.

Additional References:

Important Information for Audit: Please make sure that you have a person to review and approve the project and that you are in contact with him/her so that in case you are selected for Audit you can contact him and he/she will able to evaluate your project
PMI is not interested in the Scope or documents of your project.
They want to see how you managed the project
i.e which process you followed, which project templated you used and how you took decisions
Application Submission and Audit Process
The PMI will take 5 to 7 business days to review your application and once approved you will be requested for payment. After the payment, you will be notified if you are selected for audit or not. This is sampling so technically it has nothing to do with your application, but once you are selected for audit your application will be reviewed in detail for any gaps, references, project descriptions, your roles and etc. If you are selected for an audit, the PMI will give you 90 days to complete the process. Your eligibility period for the exam will start from the day your audit is cleared.
All applications are subject to an audit, although only a percentage of applications are selected for an audit. The selection of an application for audit is random.

PMI.org
Examples of Project Description
"This project involves relocating an office to a new city. The objective of the project is to guarantee that the move goes without a hitch and that the new office is ready for occupancy by the specified date. As the leader of the technical procurement team, it was my responsibility to manage the acquisition of the essential technical equipment for the new office space, including CCTV, internet, cables, and other relevant goods.
During the project's initiation phase, I assisted in defining the project's scope and identifying the project's stakeholders, including the employees who will be relocating to the new location, the suppliers of the technical equipment, and any other third-party service providers involved in the project.
During the planning phase, I lead the team in developing a work breakdown structure (WBS) that identifies all of the needed technical procurement operations. The technical procurement team worked closely with suppliers to ensure that all necessary technical equipment for the new office is acquired within the allotted budget and timeframe. In addition, I was responsible for vendor management and contract creation to guarantee that all suppliers adhered to the agreed-upon terms and conditions.
During the execution phase, I supervise the supply of all technical equipment and services, as well as the installation and configuration of all technical equipment, such as CCTV, internet, cables, and other relevant things. I was responsible for coordinating with other teams, such as facilities management, to guarantee that the new office space is occupied by the agreed-upon date.
I assess progress against the project plan throughout the duration of the project to verify that our objectives are being met. In addition, we monitored project spending to ensure that we remain under budget. Over the project's life cycle, we recognized a number of risks and difficulties, some of which did materialize, but we were able to limit their impact thanks to adequate reaction preparation.
At the final phase of the project, we verified that all deliverables were delivered according to the agreed-upon scope, budget, and schedule. In order to comply with regulatory requirements, we preserved all project documents and materials in compliance with business OPAs.
The relocation of an office from one city to another was a difficult undertaking that required good planning, execution, monitoring, and regulating, as well as closure procedures. As the leader of the technical procurement team, I was responsible for ensuring that all operations were performed on time, under budget, and to the appropriate quality standards."