Many people fail to realize just how complex decision making is as a project manager. There's the pressure of making the best decision for project progression. And the weight of knowing your choices in each particular project directly affects company growth can be crushing. So, all of your decisions as a project manager must be informed and strategic so that you can feel confident in and comfortable with all of them.
Fortunately, there is a relationship you can leverage to ensure you're making solid decisions in your work. That relationship is the one you have with business analysts. When project managers and business analysts work together, they can ensure projects get completed most efficiently with data-driven decisions through business analytics.
So, let's explore three ways to utilize business analytics in decision making and your role as a project manager entirely.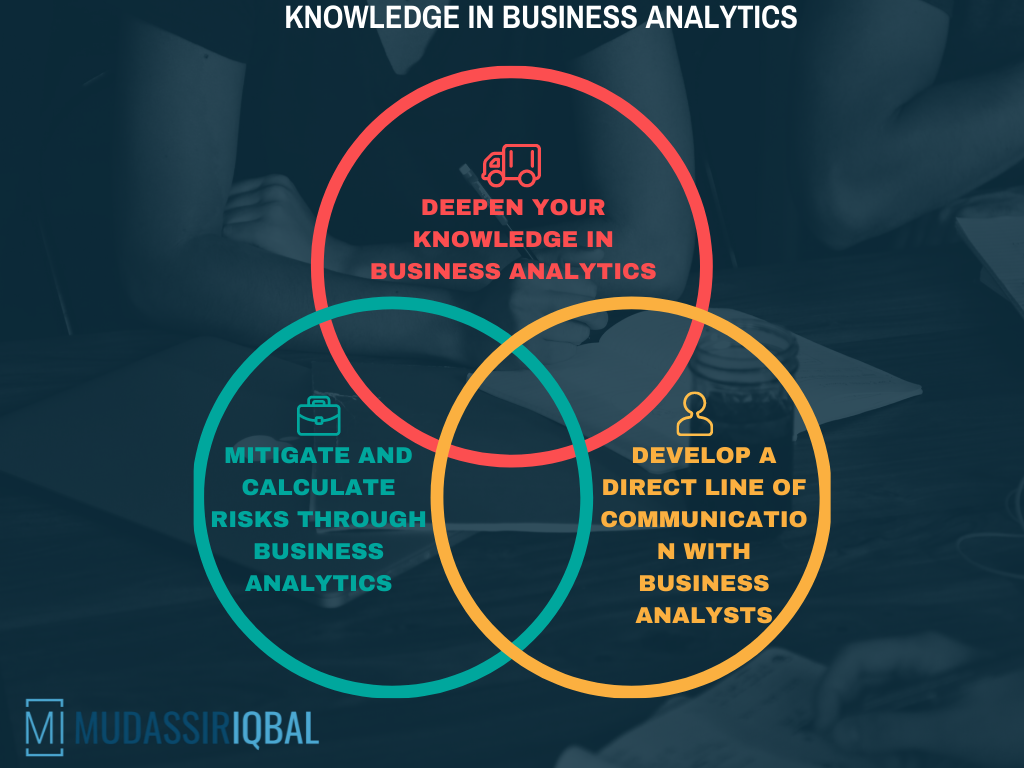 Deepen Your Knowledge in Business Analytics
Business analytics is defined as "a practice by which a specific set of techniques, competencies, and procedures are applied to perform the continuous exploration, iteration, and investigation of past and current business data, for the purposes of obtaining insights about a business that can lead to improved decision-making." In other words, business data is collected from various sources, conclusions are drawn from it, and those insights are used to make better business decisions.
Collecting, processing, and analyzing data on project efficiency can be especially helpful. You can leverage it to make adjustments to your project plan, make better use of your team members' strengths, communicate progress with clients, partners, and shareholders, and so forth.
Additionally, familiarizing yourself with business analytics helps you learn more about the company. Then, the vision behind the projects you lead becomes clearer. And you can manage them with confidence, knowing how important they are to the company.
Furthermore, deepening your knowledge in business analytics can help you create clear communication channels with business analysts.
Develop a Direct Line of Communication With Business Analysts
We all know the saying, "Communication is key." Whether they're professional or personal relationships, they simply won't survive without healthy communication. As a project manager, your success depends on how well you communicate with everyone involved in the project.
Specifically, your communication with business analysts opens up when you utilize business analytics yourself. Business analysts are essentially the gurus of business analytics. Therefore, having a direct line of communication with people who understand business analytics can help you make data-driven decisions in project management.
For example, let's say your last project was developing a new product. Now that it's complete, you can collect data on its popularity with customers and its performance. And business analysts can help you gather insights about your team's productivity because of how well or not well the new product is doing. You can then adjust your communication style with your team, the way you delegate tasks, how you manage your budget, and so forth for better collaboration and teamwork in the future.
So first, have a conversation with your business analysts about your interest in utilizing business analytics to better your impact as a project manager. Then, work with them to develop the right questions to ask to ensure they're sourcing data accurately. And continue nurturing your relationships with them by enlisting their help to interpret each new dataset you receive.
Ultimately, creating clear communication channels with business analysts will only make your use of business analytics that much more impactful. Utilizing business analytics can also help you make the right decisions when it comes to managing risks.
Mitigate and Calculate Risks through Business Analytics
Risk management is always at play in project management decisions. Before starting any project, you'll be asked to list challenges that could prevent you from completing the project and brainstorm ways to overcome them. And once challenges do arise, you're tasked with thinking on your feet and implementing the solution that minimizes damages.
Furthermore, mitigating and calculating risks is crucial as a project manager because doing so successfully ensures your project's journey from conception to completion is as smooth as possible. Fortunately, business analytics can help you identify project risks faster and form solid strategies for mitigating those risks.
But it's also essential that you're well-versed in implementing risk assessments in your projects so that you can fully leverage the data you receive. Your risk assessment process should include the following:
Analyze the big picture of the project
Study internal and external research
Use risk assessment software and third-party support to optimize the process
Seek feedback from your team
Manage risks by preventing them or having a solution ready for when they occur
Ultimately, a considerable part of being a good decision-maker has to do with identifying risks and the likelihood that they'll occur, determining if they can be overcome, and putting together the best plan for breaking through those barriers.
Conclusion
Utilizing business analytics in decision-making and your responsibilities as a whole is a great way to ensure your managing projects effectively. Implement the tips above to ensure you're taking full advantage of business analytics in your role as a project manager.