What Is Project Charter and Its Importance? – PMP/CAPM
Project Charter: An Ultimate Guide to Showcase Your Project
A project needs descriptive assistance through which others can understand the technicalities of it.
Many would ask what this is? Who does it? Who signs it? Can a project manager write it? Is it a simple project document? Why is it important? The list goes on.
Project Charter is a versatile document that formally authorizes a project or a phase. It defines the reason of establishing the project and assigns it to whoever is worthy of doing it.
Why is Project Charter needed?
Similar to how a movie without a script can be a disaster, a project without its charter can end up like a flop movie. The sole purpose of a project charter is to document and acknowledge the existence of the project. This document will be proof to commit organizational resources to the project. Project managers need to create a project charter in order to analyse the following aspects:
Reasons for undertaking the project
Objectives and constraints
Directions concerning the solution
Identities of the main stakeholders
In-scope and out-of-scope items
Risks identified early on
Target benefits
High-level budget and spending authority
Certainly, the success of the project can never be measured if a charter is not present to do so.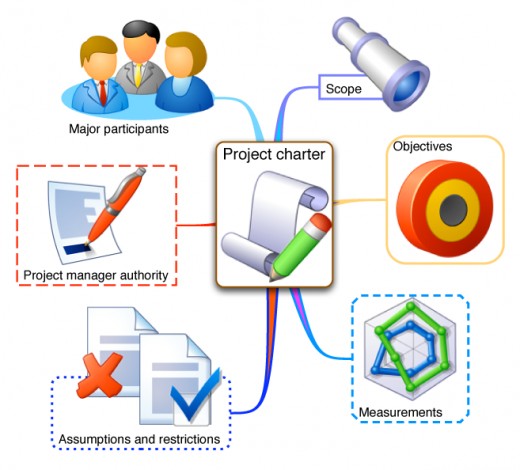 Uses of Project Charter
Projects are usually initiated by sponsors, project managers or chairperson of an organization. A charter is needed to establish a roles and responsibilities among the members. If the project is a shared collaboration between two organisation, it creates a smooth partnership between them. Project Management Office (PMO) deals with formal contracts to ensure if the external organization is trustworthy or not.
A clear and concise charter can be used to:
To initiate the project
Serves as the primary sales document for the project
Serves as a focal point throughout the project
Serves as a source to understand how the project will work.
To align with other organizational strategies
To show stakeholders and executives the business value of the project
For comparing Project Performance and Progress during Phase gate.
This high-level document demands attention and strategic changes which shall be given under much needed circumstances. For better project management planning, a periodic review is essential.
Project Charter for Client Company
Project charter acts as a central document that works as a key component to client companies. This document contains short explanations or detailed specifications about the scope of work. A general project charter is incomplete without the authorized signature at the end. It is usually a signature of the customer at the bottom that conveys authority to bind the agreement. The counter signature is from an officer from the consultancy.
Who is Responsible for Project Charter?
Clearly a project manager. He is assigned to initiate the project as soon as possible. To make it more feasible, the charter is the first thing to be developed. It is done even prior to the planning and development stage.
Although, sponsor are eligible to sign the project charter, the one who is additionally responsible for the document is the project manager. Until the end of the project, it is the duty of a project manager to provide recommendations and oversight.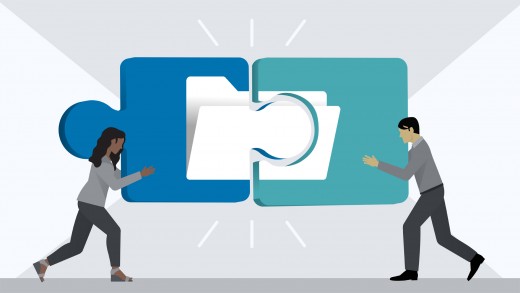 Is Project Charter the Only Important Business Document?
The clear answer is no. The Project Charter is an important business document but it is not the only one. Business Case and Benefits Management Plan are Project Phase documents, which act as an input to the Project. Chartering a project validates alignment of the project to the strategy and ongoing work of the organization.
Project Charter VS Contract
Contract
It's a procurement document which defines the legal relationship between supplier and customer
Contract may include SOW, where all deliverable need by customers, are listed
Contracts are approved by the customer and given to executing organizations to get the things done.
Project Charter
It's an internal document, which the organization is giving to the internal team to communicate what is expected from them
For a given contract, the executing organization may execute more than one project and divide the deliverable; the sponsor of executing organization may also add some goals or deliverable which are not mentioned in Contract like sponsor may ask to build a capability of doing such projects as part of this project.
The executing organization (sponsor) approves the project charter and sends across to project manager to get things done.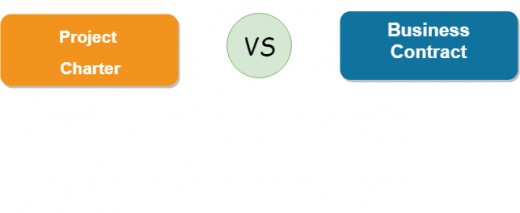 Project Charter VS Business Case
Business Case:
The business case is a sales pitch or a funding request for the project to the management or investment board.
It is developed after confirming the opportunity and evaluating the options open to the entrepreneurs.
Project Charter:
A project charter, on the other hand, is formal documentation of how a project will be managed, list of initial assumptions, risk, issues, scope, high-level timeline etc.
Developing a project charter involves assessing the project feasibility basis the given constraints and planning the project at a high level.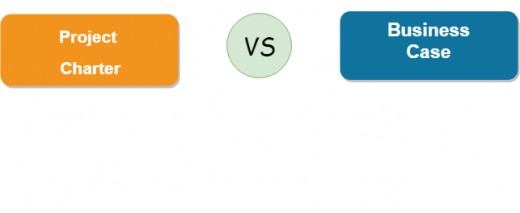 Who Signs the Project Charter?
You are mistaken if you thought that a project manager can sign the Project Charter. Project Manager DOES NOT sign it but Project Sponsor does.
The sponsor must authorize it, not write it. Project Manager is the one who develops the document. The authorization may be delivered by a formal signature by the sponsor, a formal chartering ceremony, or simply a reply e-mail saying, "I agree. Proceed."
Essential Contents of Project Charter
A Project Charter depends upon the project type and the organization but a general outline comprises of:
Project Objectives

Essential Contents of Project Charter | Source

Purpose and Justification

Project description
Project Limits
Key Ingredients
Key stakeholders
High-level requirements and high level Project Scope
Project Risk
Measurable success criteria
Summary of Milestone schedules
Financial Resources
Constraints
Project exit criteria
Duties of project manager including responsibility, and authority level
Name and authority of the sponsor or other people (s) authorizing the document
5 Step Process for Publishing ad Effective Project Charter
1. Initiate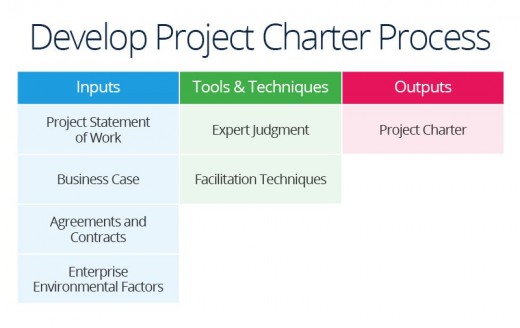 Identify Stakeholders
Identify the Project Scope
Work on the identification of Risk
Understand the assumptions and Constraints
Identify the high level of Requirements and Scope
Most importantly what is project Success Criteria
2. Develop
Goal
Scope
Timeline
Business Case
3. Get Agreement
Sending Agreement to Sponsors and Stakeholders
Confidentiality agreement from team members
4. Sign off by the Authority
Signature of proceeding by Sponsors
5. Publish the project Charter
Project Charter is ready to Publish
I have witnessed that many project managers initiate a project without having a clear Project Charter and it doesn't end well. The document is an integral part of Project Management as it gives a purpose to planning, meetings, discussion and objectives of the project. Personal Advice? Always initiate a project with a Project Charter, whether its 1 pager or 15, but make it and get it approved before proceeding further.
A Visual Project Charter
Usually, a project charter spans for 5-6 pages. This is one of the major reasons why they get overlooked in the project management process. An easier way to write a project charter that everyone can quickly read and understand, with minimal effort is through visualization.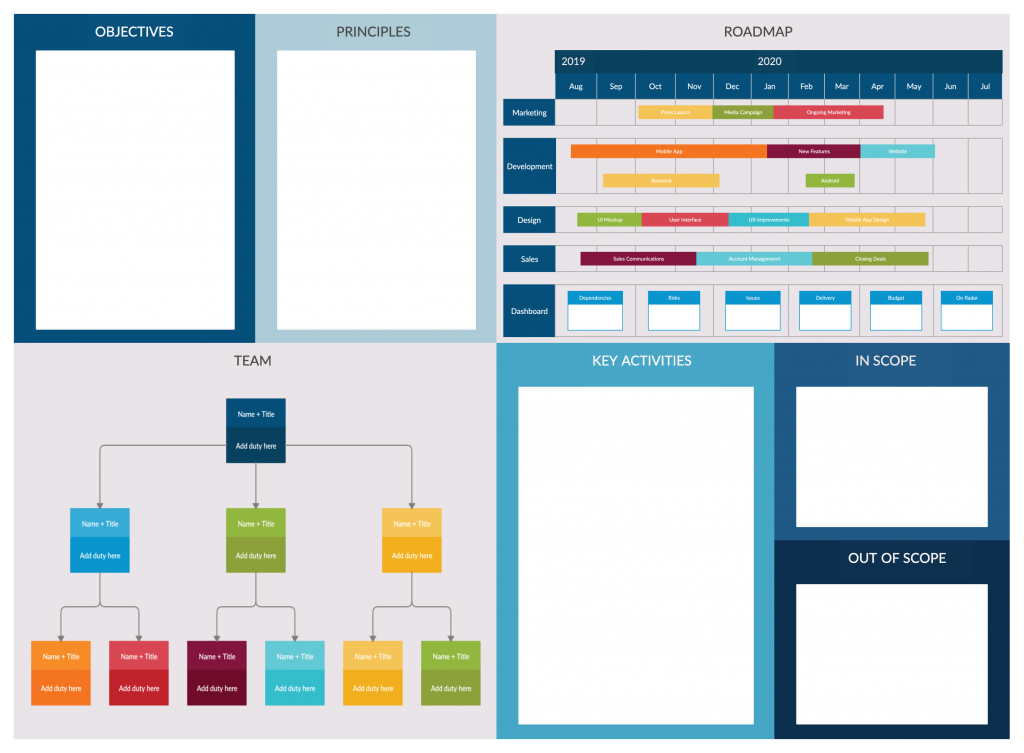 References
PMBOK 6
Grey Campus.
Simplilearn
A Project Manager's Book of Forms by Cynthia Snyder Dionisio
Project Management Professional Exam Review Guide by Kim Heldman
Project Management Professional Exam Study Guide by Kim Heldman
PMP Certification Study Guide by Joseph Philips
Rita Mulcahy
Specialities at BAYT
Brown, A. S. (2005). The charter: selling your project. Paper presented at PMI® Global Congress 2005—North America, Toronto, Ontario, Canada. Newtown Square, PA: Project Management Institute.
[pt_view id="c356c37lza"]