Team development stages: Forming, Storming, Norming, Performing, Adjourning, known as Tuckman Ladder. Begins with polite caution, moves to conflict resolution leads to cooperation and effective collaboration and ends with disbanding and reflection.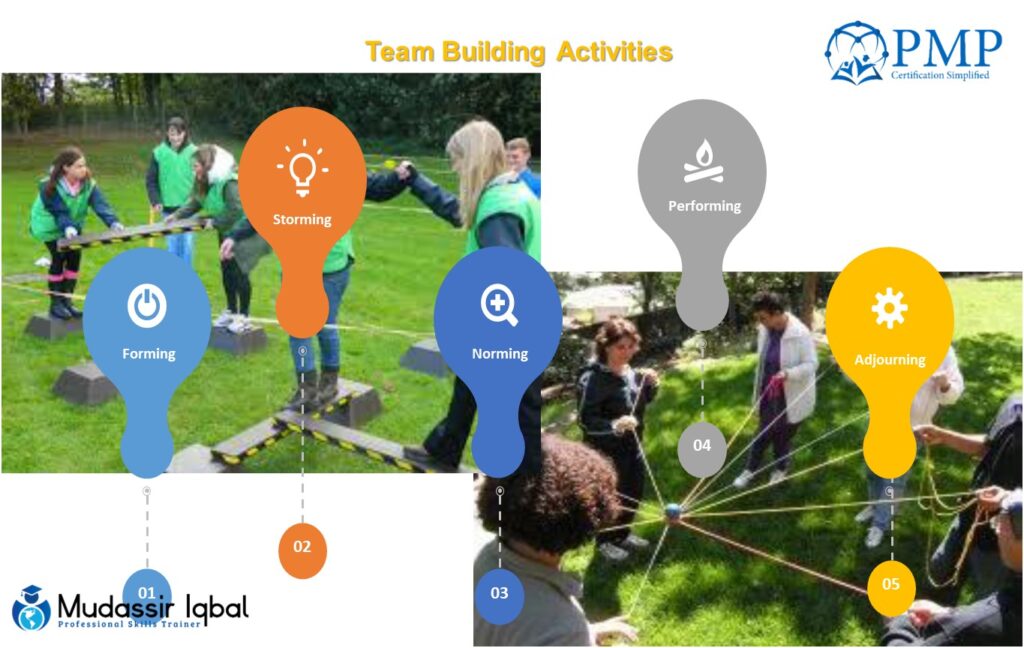 The Tuckman ladder is a paradigm that describes the five stages of group development: forming, storming, norming, performing, and adjourning.
Forming
cautious politeness
---
This is the early stage of group creation where individuals are nice and cordial to each other and strive to obtain a sense of what the group is about and what is expected of them.
The team meets and learns about the project and their roles and responsibilities
Team members tend to be independent and not as open
Storming
conflict
---
This stage is characterized by conflict and disagreements among group members as they start to express their thoughts and desires. As individuals compete for power and position inside the organization, tensions may rise.
The team begins to address the project work, technical decisions
If team members are not collaborative and open, the environment can become counterproductive
Norming
cooperation
---
During the norming stage, the group begins to resolve conflicts and define defined roles and duties. Group members begin to collaborate and build a sense of cohesion and unity.
Team members begin to work together and adjust their work habits and behaviours to support the team
The team members learn to trust each other
Performing
effective collaboration
---
In this stage, the group is fully functional and working together efficiently towards a common goal. The focus is on attaining goals, and group members may successfully communicate and collaborate.
Teams function as a well-organized unit
They are interdependent and work through issues smoothly and effectively
Adjourning
disbanding and reflection
---
This is the ultimate stage of group development, where the group starts to disband and individuals go on to new projects or interests. Group members may endure sentiments of loss and despair, but they also take away significant experiences and learning from the group.
Team completes the work and moves on from the project
This typically occurs when staff is released from the project as deliverables are completed or as part of the close project or phase process
Not all groups progress through all five stages, and some may cycle back and forth between stages as necessary. Additionally, the Tuckman ladder is not a strict, linear model, and various groups may experience the stages in different ways and at differen