Negotiation is a process of communication between two or more parties with the aim of reaching a mutually beneficial agreement. it involves the exchange of ideas, perspectives, and offers, with the goal of reaching a satisfactory outcome for all parties involved. Regardless of which project management methodology you use, It is a critical skill for any project manager.
"It is important to embrace a mindset that everything about a project is negotiable and that a project leader needs to be a skilled negotiator."
Englund, Randall L.
Negotiation as a leadership Skill
It is important for leadership roles because leaders often need to negotiate with various stakeholders, such as employees, customers, suppliers, investors, and regulatory bodies, to achieve their objectives. Effective negotiation skills can help leaders to resolve conflicts, build relationships, and make better decisions.
Negotiation is a critical leadership skill that enables leaders to achieve successful outcomes and build strong relationships. A leader who can negotiate effectively can work with others to find mutually beneficial solutions, resolve conflicts, and create positive change.
Project Managers and Negotiation
Project managers can use negotiation skills to resolve conflicts between team members, negotiate project timelines and budgets with stakeholders, and communicate with vendors and contractors. It is important for the success of a project because it helps to ensure that all parties involved are satisfied with the project outcomes and that the project meets its objectives within the allocated resources and timelines.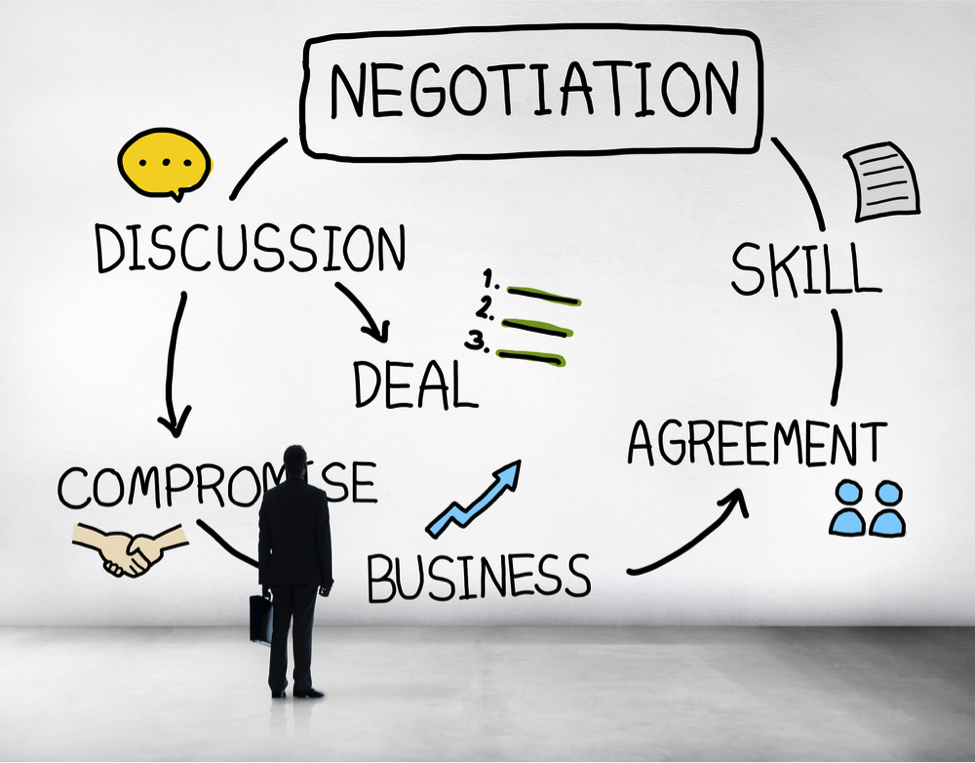 "The most powerful weapon to conquer the world is a negotiated compromise." – Winston Churchill
"The art of negotiation is not about winning or losing. It's about creating outcomes that benefit everyone involved." – Marie Forleo
"Negotiation is not just about dividing a pie but expanding the pie." – Yo-Yo Ma
How to become a better Negotiator
To become a better negotiator, you can practice active listening, understand the other party's perspective, and develop creative solutions that satisfy both parties interests. It is also important to prepare thoroughly for negotiations by researching the other party's needs, interests, and preferences, and by identifying your own bargaining strengths and weaknesses. Effective communication skills, empathy, and emotional intelligence are also important traits for successful negotiators.
What are some negotiation skills?
Negotiation skills are made up of many smaller skills, including communication, organization, persuasion, and active listening. Essential communication skills include identifying nonverbal cues and verbal skills to express yourself engagingly. Skilled negotiators can change their communication styles to meet the listener's needs. Relationship-building is also important in negotiations. Establishing good terms with your negotiation partner before it begins can leave a positive impression of yourself on the other party.
Negotiation is not Zero-Sum Game
Contrary to old-school zero-sum business wisdom, you don't always need to hold your cards close to your chest to achieve a successfully negotiated outcome.
The concept of a zero-sum game in negotiations is the idea that one person's gain is directly balanced by another person's loss. Negotiation is collaborative, with both parties working together to create value and expand the available resources. In these situations, the goal is not to divide a fixed pie but to create a larger pie that both parties can benefit from. This approach is sometimes referred to as a "win-win" approach.
What you should be negotiating on the project
| | |
| --- | --- |
| | Negotiate to |
| Scope of Work | determine the project's scope, objectives, and deliverables. |
| Budget and Resources | determine the budget, allocate resources, and secure funding for the project. |
| Timeline and Milestones | determine the project schedule, set milestones, and adjust timelines as needed. |
| Roles and Responsibilities | define roles, responsibilities, and expectations for team members, stakeholders, and partners involved in the project. |
| Risk Management | identify and mitigate risks, allocate resources to risk management, and agree on risk management strategies. |
| Quality Standards | establish and agree on quality standards, quality control measures, and quality assurance processes for the project. |
| Communication and Reporting | agree on communication and reporting processes, frequency, and channels for the project team and stakeholders. |
| Contract Terms and Conditions | finalize contracts and agreements with vendors, contractors, and other project partners. |
| Change Management | manage changes to the project scope, budget, or timeline, and agree on change management processes. |
PMI's PMP Exam Content Outline
Domain – 1 : People
Task 8 Negotiate project agreements
Analyze the bounds of the negotiations for an agreement
Assess priorities and determine ultimate objective(s)
Verify objective(s) of the project agreement is met
Participate in agreement negotiations
Determine a negotiation strategy
Negotiation is:
Communication back and forth for the purpose of making a joint decision.
A way of finding a mutually acceptable solution to a shared problem.
Achieving an ideal outcome: a wise decision, efficiently and amicably agreed upon.
Englund, R. L. (2010). Negotiating for success: are you prepared?
PMBOK Guide and Negotiation
As described in A Guide to the Project Management Body of Knowledge (PMBOK Guide®) typical issues to be negotiated during the course of a project include:
Scope, cost, and schedule objectives
Changes to scope, cost or schedule
Release, acceptance, go/no-go criteria
Assignments, roles and responsibilities
Substantive issues that need to be negotiated include:
Terms
Conditions
Prices
Dates
Numbers
Liabilities.
Negotiation is a vital skill for leaders and professionals, involving communication and compromise to find mutually beneficial solutions. It can lead to benefits such as improved relationships, conflict resolution, and more efficient decision-making. A collaborative approach to negotiation is often more effective than a zero-sum game approach. Developing effective communication, critical thinking, and problem-solving skills are essential to become a better negotiator. Ultimately, negotiation is an important tool for achieving successful outcomes and building positive relationships in personal and professional settings.
Further Reading
Negotiating for success are you prepared? by Englund, R. L. (2010)
https://www.zippia.com/advice/negotiation-skills/
https://www.indeed.com/career-advice/career-development/negotiation-skills
https://sg.indeed.com/career-advice/career-development/negotiation-skills
Top 10 Negotiation Skills You Must Learn to Succeed
5 Negotiation Skills Project Managers Need to Master (project-management.com)